Masung dares to take on corporate responsibility and actively set up Masung One Foundation to help Masung people who have difficulties!


Masung One Foundation was established on March 13, 2021. The scope of use of One Foundation includes employees suffering from serious diseases and their immediate family members. Support for disasters caused by natural disasters such as floods, fires and earthquakes of employees' families; Academic support for children of poor employees' families. The One Foundation does not participate in business operations, and the Masung One Foundation, established for the purpose of offering love and helping the destitute, promotes the unity of Masung , the spirit of mutual assistance and love, gather the love power of Myitsone, and solve problems for Myitsone who have difficulties.

An epidemic made everyone understand the importance of health and gave us confidence to overcome the disease.

On September 14, 2021, Liu Zhitian, a colleague of Guangming Factory, applied for cash assistance of RMB 8,000 due to serious illness and extreme poverty. He has been discharged from hospital and recovered to work.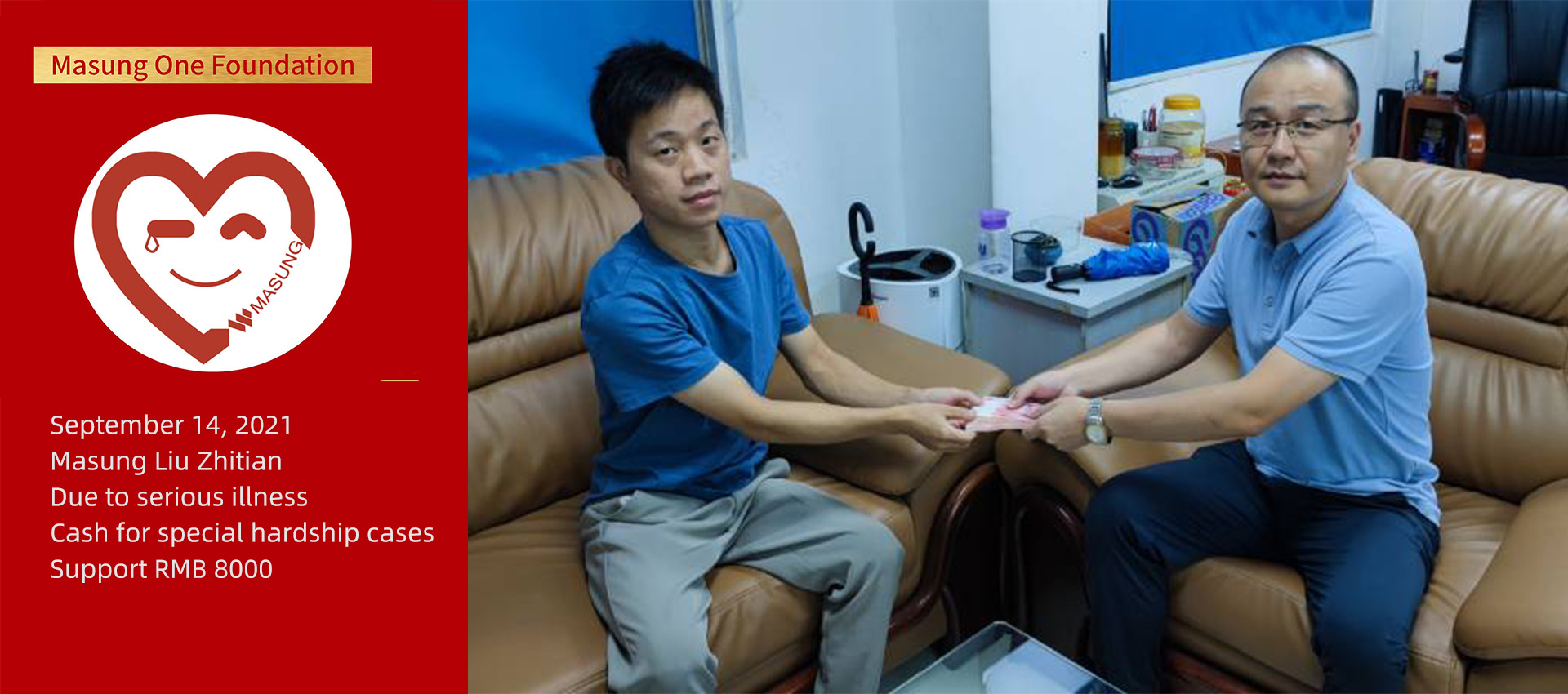 On October 27, 2021, Zhu Sufang, a member of the American Pine Foundation, Xiao Hua, Administration Department, and Dai Hui, Vice President of Factory Affairs, went to Guangming Hospital to pay their respects to Xiao Guiyun, a colleague of the Materials Department of the sick employee, and sent 8,000 yuan of loving support to Xiao Guiyun and his family, and expressed their cordial greetings. After knowing his illness and treatment in detail, he was instructed to rest at ease and strive for an early recovery!


Masung pays attention to the growth of every employee, and implements performance bonus for diligent, down-to-earth and willing employees. In 2020, due to the epidemic situation, many enterprises can't resume work, and the employees who have resumed work can't get on duty in time. In Masung, when the chef didn't come to work during the epidemic, Ms. Sun Qifang, Xiao Guiyun's mother, volunteered to take on the responsibility of cooking in the whole factory, and persisted for two months until the chef arrived at the post, thus fully ensuring the normal order of three meals a day for all employees. From March 2021, Ms. Sun Qifang worked in the riveting position of the Hardware Department, and through her own efforts, her production capacity reached the standard for five consecutive months and received corresponding performance bonus.

Masung advocates healthy life and happy work at work, and hopes that every employed Masung person will be healthy, happy and happy. However, life has to go through hardships. Masung believes that suffering is short-lived, and hopes to give care and warmth to Masung people who have difficulties, and take on corporate responsibility, so that every on-the-job employee can live a healthy life and work happily!

Related recommendations:Masung Group established Masung One Foundation in 2021